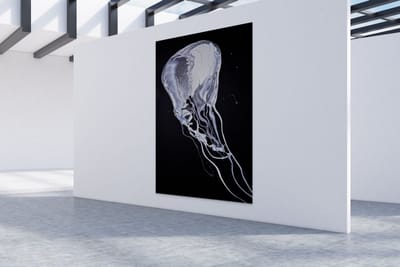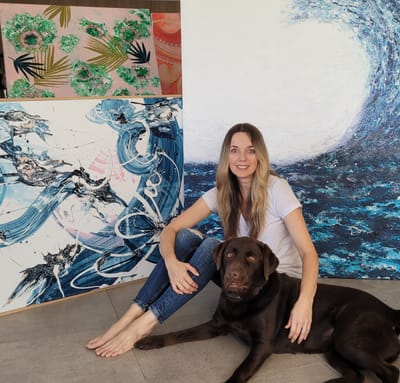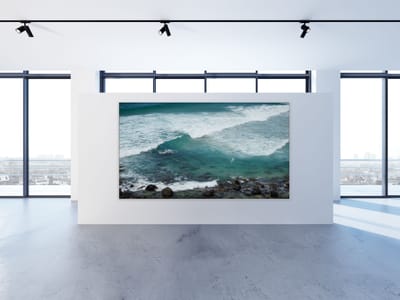 "Born on the Gold Coast Australia I grew up breathing Music Art and Dance and was often seen painting in between dance training.
Art was always a passion and natural career progression. It gave me the freedom to express myself and to bring a sense of musicality into my pieces. Painting boldly, freely and intuitively in an abstract manner, I like to play with layers of acrylic paint, alcohol inks and experiment with mixed media. I like to use various tools including my hands, allowing me to see where the medium takes me. My work is not about one thing or another, it's simply a creative, expressive and emotional journey that reflects on my career in the arts, travel and the beauty that the world holds to me. In my studio, I love to paint 'big' using large scale canvases with an abundance of colour and texture. My mission is just simply to create beautiful pieces that everyone can enjoy. Kinc &Co. founder, curator and resident artist Meagen Winter "Migii"

Migii has been designing and selling her beautiful art, accessories and homewares in selective boutique homeware stores across Gold Coast and Byron Bay. She has now started a new and exciting 'limited edition range' of exquisite fine art and photographic prints, one of a kind jewellery, and beautiful homewares available exclusively 'online' and not available in stores. These exciting ranges will give you something original, affordable and truly special for your home. "Something new. Something individual. Something truly unique!"

Whether it be to create a mood, add colour to your space or just find a special gift, you can find it all here. We will be adding new and original lines regularly, so add "Kinc&Co." to your favourites, and follow us on Instagram @kincandco so we can keep you in the loop with exciting new up and coming lines that have just been created.

After "Original Art?"
Contact me personally for my latest artworks not available online or We can also do 'custom made designs' to suit your needs. So sit back, relax and let us help you pick your key pieces and start transforming your space today.